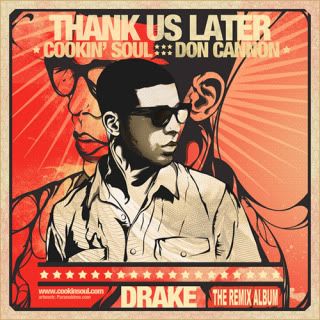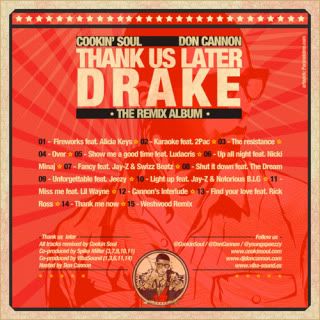 Yesterday marked the release of one the most anticipated releases in 2010 – Drake's Thank Me Later. Cookin' Soul and Don Cannon joined forces to honor the album by offering an ambitious mashup-project that is explained in the following lines:
"Thanks Us Later is a new approach to song remixing. Not having the a capellas it is a complete new challenge. Cookin' Soul got in the studio together with french top producer Spike Miller and electronic spanish producer VibaSound using real live instruments: guitars, bass, piano, strings and synths."
I wasn't sure if I wanted to post this but with the additions of 2Pac & biggie on a couple tracks, I figured it was worth it. Not sure how Pac would like Drake using his voice, but it sounds good.
Here's the Link:
http://www.cookinsoul.com/2010/06/15/drake-x-cookin-soul-x-don-cannon-thank-us-later-the-remix-album/